September 24, 2007
It Was 7 Years Ago Today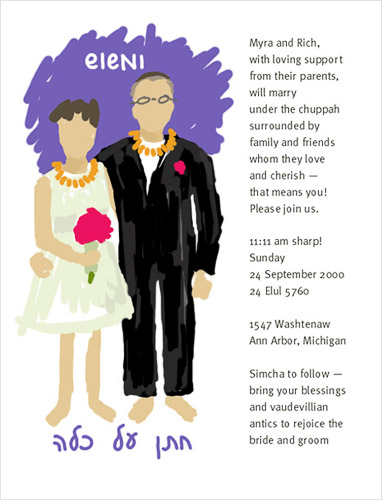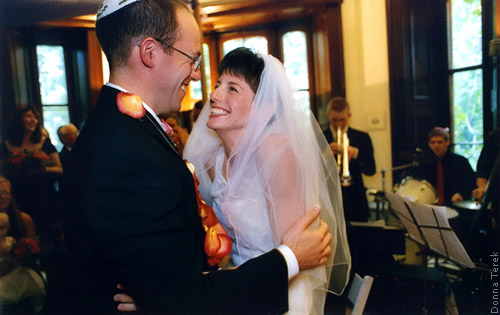 Not only would I marry my wonderful husband all over again, but we'd have the exact same wedding (except we'd include the close friends we've made since then).
Roll the credits…
Photography

Donna Terek, (313) 331.0179
More about Donna below.

Cake topper and sugar flowers

Luke and Tam at Very Different Cakes in LA.
Trivia: Luke and Tam introduced us!

Dress

Karen Lucas
I loved working with Karen, and later joined her knitting group.

Music

Community High School Jazz Band
We found these guys only 2 weeks earlier at Rico's law school 5-year reunion.

Flowers

Tom Thompson, 504 S. Main, (734) 665.4222
They were booked months before I walked in the door. I literally begged.

Chuppah poles

Peter Beal Furniture
Peter did us a huge favor; this project wasn't really worthy of his talents.
About the photographer: When we found Donna Terek in 2000, the high-quality, journalistic-style of wedding photography so popular today was only practiced by a few photographers in the area. I think we interviewed almost a dozen photographers before learning about Donna. She shot film with two camera bodies (one with color film and the other with b+w), and she shot over 30 rolls! She even set up her lights to add an extra glow in the big room where we set up the chuppah. We absolutely love how she captured that magical day!