September 18, 2007
Yo Inspires
A few days after Rich and I came up with the Relish logo design, I saw this painting at Yolanda Gonzalez's Nice Art gallery on Etsy, and I knew I had to have it. I've been wanting an original "Yo" for years, and here was my big chance!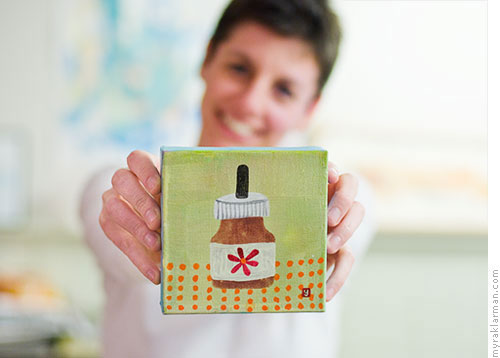 I would have loved to hang the entire "Beauty Product Series" in my home, but sharing is nice, too. :-)
I first met Yo, then a budding painter, in the early 90s while I was living in Grand Rapids. Right around the time I started my design studio (Myra Messing Design), she started her illustration studio, Yolanda Gonzalez Illustration. I loved her style and was fortunate to work with her on a few projects. Each was a very happy collaboration.
But I'd say that Yo's happiest collaborations are with her husband, the redoubtable Mike Gorman. They did this totally rock'n project for Opera Grand Rapids together.
And today Mike and Yo celebrate their 15th wedding anniversary. Mazel Tov!
Mike and Yo were both present at my first date with Rich (a New Year's Eve dinner party). Mike was overheard saying (about Rich and me), "That's a done deal." Mike can be pretty insightful that way.
Yo's illustrations have appeared in such publications as The Atlantic Monthly, Parenting Magazine, Star Tribune, and Real Simple. She's currently illustrating a book cover for a preteen novel. Go Yo!