November 06, 2009
Halloween 2009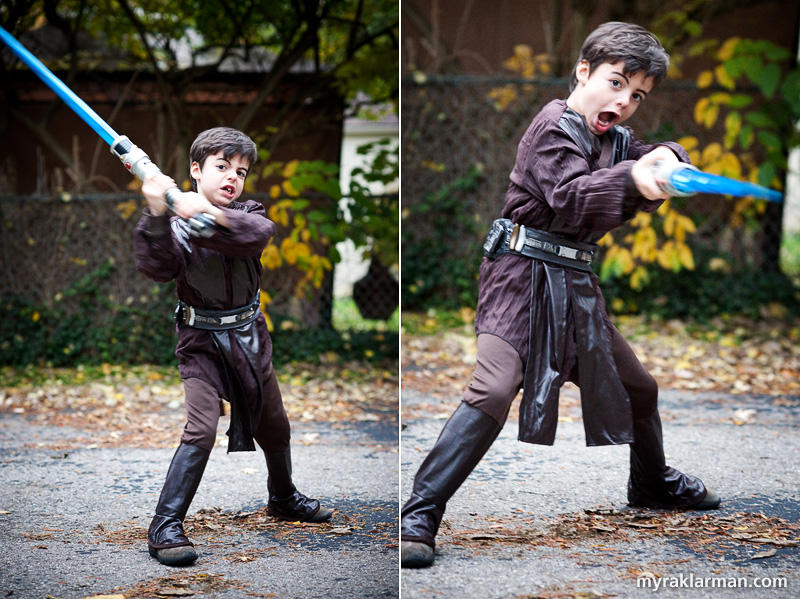 The election and MLB World Series are now officially over, and everyone here has adjusted to the time change. Finally, we feel at liberty to turn our attention back to Halloween.
This year, Max had his heart set on dressing up as a guy from Star Wars — and he would not be deterred. We understood that Max was likely getting massive exposure to Star Wars tee-shirts, lunch boxes, backpacks, etc. thanks to his school buds. But we didn't anticipate just how much Star Wars had infiltrated his psyche. As far as we know, he's watched only 10 minutes of one of the movies (The Empire Strikes Back) at a friend's house. But clearly Max had gotten a taste, and was hungry for more. And all the Star Wars Lego kits we reluctantly allowed to adorn/festoon/clutter our house apparently weren't enough to satisfy him.
It soon became clear why Max, who knows precious little about the Star Wars series, was so singlemindedly determined to be a Jedi master: he'd get to have a lightsaber. I know this because when we ran down the list of possible characters, he would always ask, "Does he have a lightsaber?" Whoever decided that the main dudes in Star Wars should fence with oversized fluorescent glow-sticks is an intergalactic genius. After heated discussions weighing the advantages and disadvantages (mostly disadvantages) of green masks (Yoda) and beards (young Obi-Wan Kenobi), we were able to sell Max on being Anakin Skywalker. The photo on the costume package showing a kid holding a blue lightsaber clinched the deal.
We weren't able to go out with our regular trick-or-treat gang this year, but I had a feeling we'd hook up with another posse once we got to the Burns Park Halloween Mecca — i.e., Granger Street. Until then, we were amazed by the breakneck speed at which Max, unencumbered by social obligations, would sprint from house to house. He asked about going around with other kids, but who could possibly keep up? Just when Max was taking a breather, friends appeared! Now Max was trick-or-treating with Harry Potter, a pirate, a paper boy, a ghost, and a rather elaborate pizza pie. When those guys were ready to head home for cider and pecan pie (yum!), Max still wanted more. Not just more candy (our kid has a strict quota, and he knows it!), but more trick-or-treat adventures. The thrill of the hunt. The chase. And, in the 1600 block of Brooklyn Ave., the chance to duel with another lightsaber-wielding kid… er, Jedi.
See also: