February 21, 2010
Tessa Virtue + Scott Moir: The H2O Sessions, Part II
Guess what I was doing Friday night during the Olympic ice dancing event (which I followed by reading the scores online after each team skated, since we don't have our television hooked up to any broadcast/cable/satellite media)? I was prepping the images for this blog entry! It was my small way of rooting for Tessa and Scott. A virtual homage.
Tessa and Scott are currently in 2nd place after Friday's Compulsory Dance (which makes up about 20% of the skaters' final score). In 1st place is the Russian team of Oksana Dominina and Maxim Shabalin. In 3rd place are Tessa and Scott's training partners, US champions Meryl Davis and Charlie White. There are two more components to the ice dance competition: the Original Dance (about 30% of the final score) on Sunday evening and the Free Dance (about 50% of the final score) on Monday evening. The medals will be awarded after Monday night's event. You know I'll be glued to the TV — exactly whose TV I can't yet say for certain — for several hours on Monday evening!
Part II: On ice! As much as we all enjoyed staging photos in the meadow and the river (see Part I), there was another location Tessa and Scott had their hearts set on: their practice rink, Arctic Edge in Canton, MI. I was excited to photograph them training, but I had concerns about what the lighting conditions would be like. Most rinks are bare-bones facilities with industrial lighting, and Arctic Edge is no exception. Plus, Tessa and Scott wouldn't be standing still. Au contraire, they would be ripping around the rink practicing parts of their various programs. So with iffy light and a large expanse of ice to work with, I wasn't sure what I would come up with.
The pictures turned out better than I expected. However, I didn't anticipate how happy they'd make Tessa. She was clearly ecstatic: "WE ARE IN LOOOOOOOVE WITH THE PICTURES!!!!!!!!!!!!!!!!!!!!!!!!!!" The Arctic Edge rink may not have gorgeous scenery or dramatic light; but Tessa and Scott spend countless hours there developing and refining their routines, and it's obviously a very special place to them. And, truly, they make any place beautiful!
Tessa and Scott give the world such a gift with their skating. They show us what great beauty, talent, and skill — when honed for 13+ years — looks like. It's a soul-uplifting experience to watch them, to see what is humanly possible. Thanks guys!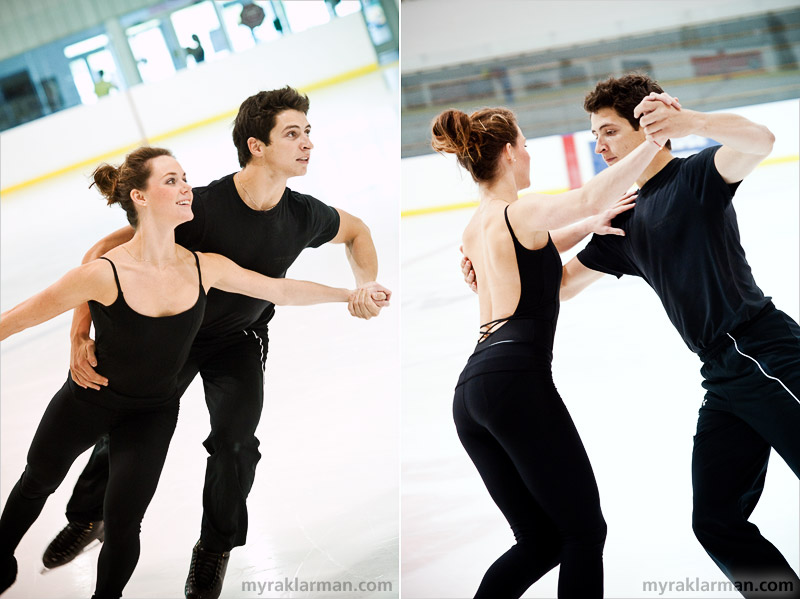 See also: