March 30, 2009
Marching towards FestiFools 2009
The hive has been abuzz of late with the frantic, final push to get all the puppets ready for FestiFools 2009. And know this: The April 5 street party will definitely happen — RAIN OR SHINE. So be there, A-squared!
Don't miss FestiFools 2009!
Sunday, April 5, 2009
4:00–5:00pm (sharp!)
Downtown Ann Arbor (Main St., between Washington and William)
Complete info at festifools.org
FestiFools still needs more volunteers for the day of the event — puppet wranglers, crowd control, merry-makers, and "roadies." For more information on how you can help out, see FestiFools: Volunteer at the Event and/or email startproject@umich.edu.
I've been snooping around the studio over the last several weeks with my camera in tow. It's my pleasure and privilege to document the massive "behind-the-scenes" effort that goes into creating this 1-hour spectacle. Except as otherwise indicated, the puppet makers captured in these photos are U-M students in Mark Tucker's Art in Public Spaces course.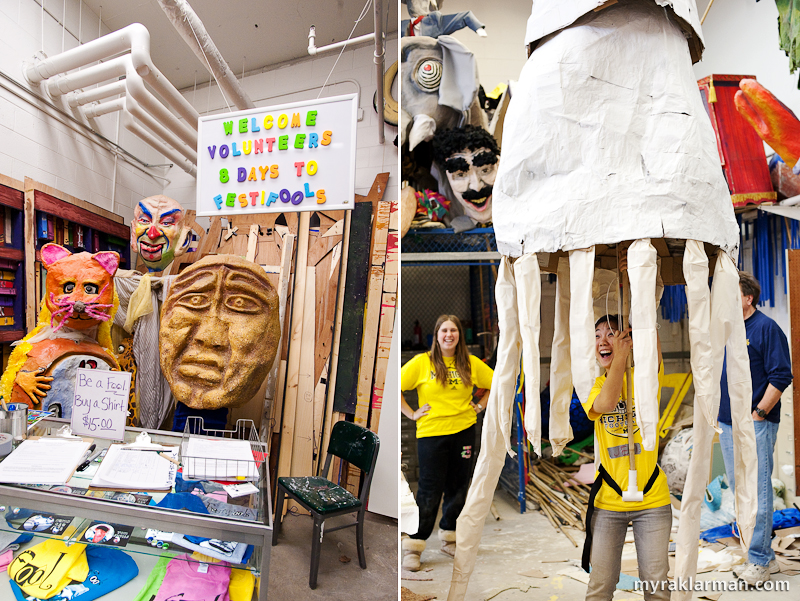 See also: