April 07, 2008
FestiFools 2008
Wow! FestiFools 2008 was completely, totally, utterly, absolutely, wicked awesome! Giant puppets marauding on Main Street; throngs of volunteers and spectators jumping, dancing, clapping, and shouting "Wahoo!"; Groove beating on buckets and ladders; clowns and music-makers clowning and making music (respectively); Zoltan posing mind-boggling koans; lots of happy faces; plenty of good vibes; and sunshine to spare — how 'bout that weather?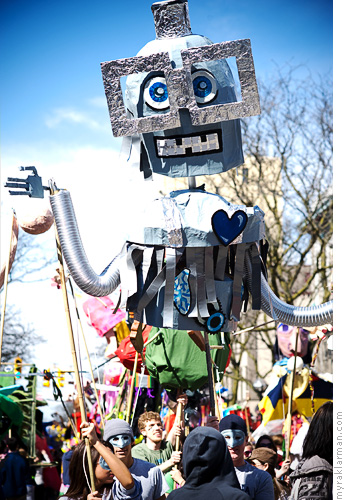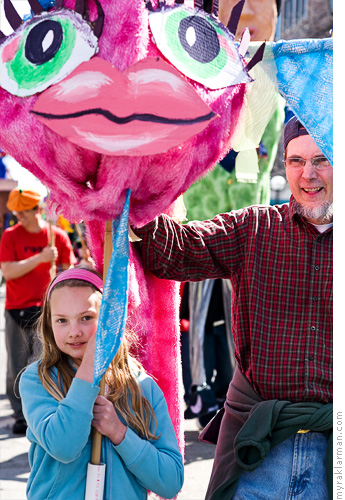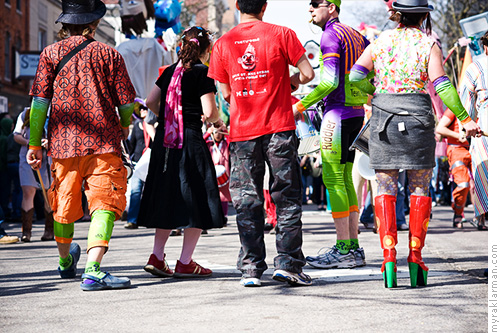 My two special Fools really got into the spirit of the day. Rico jerry-rigged Max's ukulele guitar up to a tiny, battery-powered, 5-watt guitar amp and let loose a torrent of overdriven tune-age — "Won't Get Fooled Again," "Fools in Love," and "Tears of a Clown" were favs. Max (who had been anticipating FestiFools since last year's event) jumped right into the parade and didn't look back.
To say that numerous people photographed the festivities would be a monumental understatement. It seemed that everyone had their cameras out, and for good reason — there was so much visual goodness to capture. And truly, it would take a battalion of photographers to cover such a rich event. In recognition of that fact, I've decided to organize a juried group photography exhibit to reveal FestiFools from diverse perspectives. The show will hang at Sweetwaters (Washington St.) from mid-April through the end of June. If you'd like to participate, here's all the relevant info.
So where are these puppets now? Funny you should ask. Earlier today Rico and I helped install eight of them, along with my puppet-making photos, in the lobby of the Power Center. The exhibit will be up until the end of April. If you catch the U-M Dept. of Musical Theatre's production of Carousel, you can check it out proper-like. Otherwise, you'll just have to press your nose against the Power Center glass.
Kudos to everyone who worked so hard to make this event happen, including Creative Director Mark Tucker, Co-Director Shoshana Hurand, Master Puppet Artists Alex Kahn and Sophia Michahelles, and U-M Art+Design Assistant Professor Nick Tobier.
If you'd like to get involved and become a real, card-carrying Fool, visit the FestiFools website. I hear they let all types join up. They'll even take you!
flickr slideshows: FestiFools 2008 | The Making of FestiFools 2008
See also: