April 29, 2008
Pioneer Theatre Guild: Willy Wonka
Just as the golden ticket winners couldn't wait to get inside Wonka's factory, I couldn't wait to see the opening night of the Pioneer Theatre Guild's production of "Roald Dalh's Willy Wonka."
Pioneer was selected to prototype and fine-tune (a process known as "workshopping") a new stage adaptation of Charlie and The Chocolate Factory before it becomes available for license to theatre groups worldwide. The honor was not without major challenges, though — such as receiving the script and score in piecemeal chunks over the weeks leading up to opening night. The show is also a major technical undertaking: anyone familiar with the story knows how much it relies on the adept execution of illusions and special effects.
And as if that weren't enough… the show also includes nearly 100 27 elementary school children (they appear throughout the show in various roles so seamlessly that I actually thought there were almost 100 of them).
The show's directorial staff includes four students from the University of Michigan School of Music, Theatre & Dance: Etai BenShlomo, Clark Baxtresser, Sarah Yarrington, and Gavi Savit (all but Etai are recent Pioneer alumni!).
These photographs were shot during the first dress rehearsal and opening night. Here's a taste that won't spoil the special effects for anyone lucky enough to have a ticket for this coming weekend's performances. (And if you're the kind of person who believes in making your own luck, go purchase tickets — along with scrumptious chocolates! — at Morgan & York, located at 1928 Packard.)
Tickets
Adults: $12
Students/Seniors/Teachers: $8
Performance Schedule
Saturday, April 26 @ 7:30pm
Sunday, April 27 @ 2pm matinee
Friday, May 2 @ 7:30pm
Saturday, May 3 @ 2pm matinee
Sunday, May 4 @ 2pm matinee
All performances will be in Schreiber Auditorium at Ann Arbor's Pioneer High School.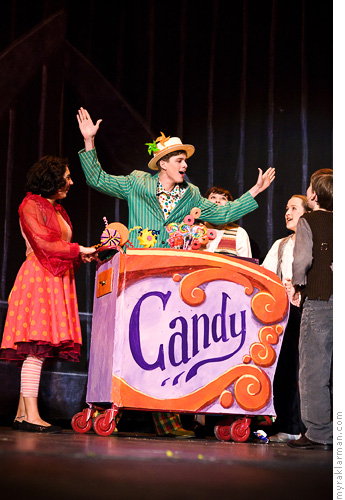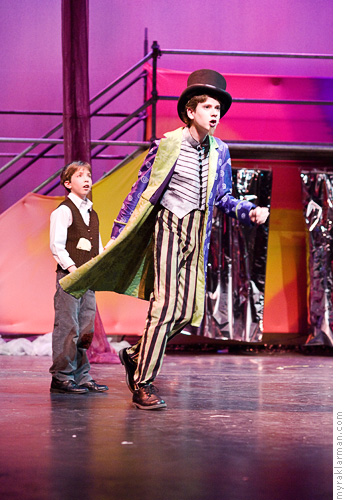 See also: