April 27, 2009
Pioneer Theatre Guild: Urinetown
Updated May 6, 2009: I've added five NEW PHOTOS to this entry — several of which were intentionally held back until the end of the show's run.
This Brooklyn-born peon was — yet again! — bowled over by the great talent on display at Schreiber Auditorium this afternoon. The members of the Pioneer Theatre Guild were full of piss and vinegar as they brought this fictional dystopia (Urinetown) to life on the stage. The show gives the cast many opportunities to demonstrate their musical theatre chops, while simultaneously mocking every convention of the genre — Rico thought it was pretty hilarious; and Max especially liked the "tinkle" sound effect, which the audio guys let him trigger during the intermission.
The production designers and technical crews make the cast truly shine with pitch-perfect sets, lighting, sound, costumes, make-up, and props. The production is tight, and utterly stunning. Kudos to stage managers Avi Dobrusin and Miriam Michaels for being the glue that holds it all together.
I shot these photos during the last dress rehearsal. When I originally posted this entry, I withheld a few choice images, as there are some wonderful surprises I didn't want to spoil.
Only three performances remain. If you're able to go, urine for a treat!
Tickets
Adults: $12
Students/Seniors/Teachers: $8
Performance Schedule
Friday, May 1 @ 7:30pm
Saturday, May 2 @ 7:30pm
Sunday, May 3 @ 2pm matinee
All performances will be in Schreiber Auditorium at Ann Arbor's Pioneer High School. More info is available at the Pioneer Theatre Guild website.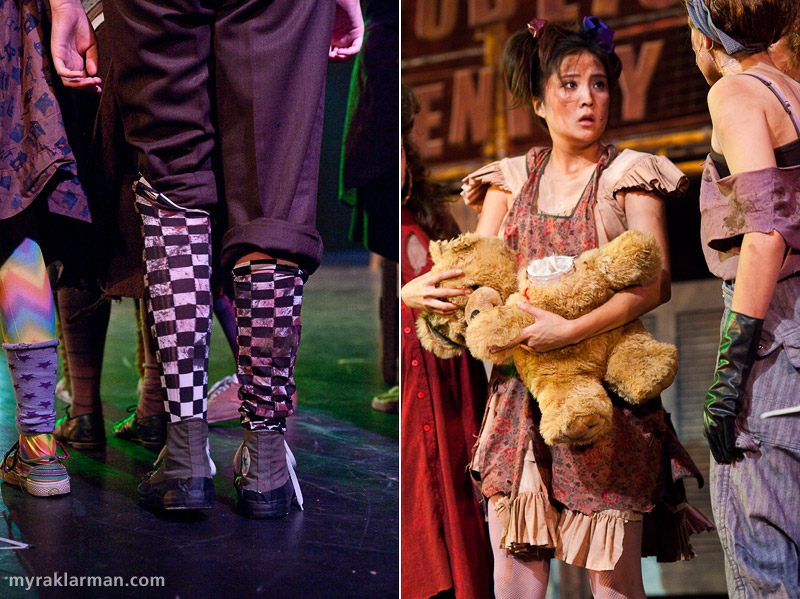 See also: