April 24, 2009
Selma Café: April 24, 2009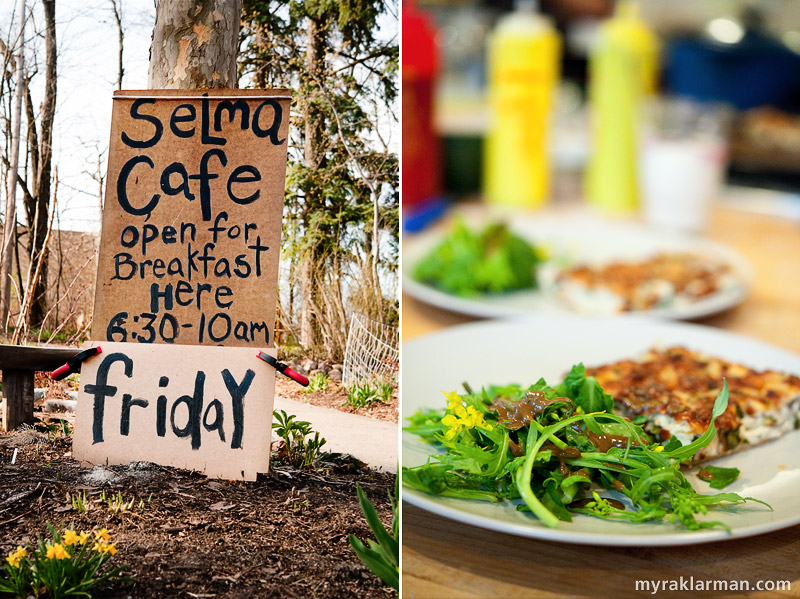 This morning at Selma was EPIC. Let's do the numbers:
1 man — as in "the Man" — dropped by to personally serve notice upon Jeff and Lisa regarding their out-of-compliance chickens. Apparently, they have one more chicken than the law will allow, and they keep them in a location that's not exactly cricket. See Jeff's post on the Repast blog for more details about that.
12 members of the Ann Arbor Bicycle Choir chose Selma Café as the venue for their second-ever meeting — song ideas and a mission statement were on the agenda. More info.
123 breakfasts — as in ONE-HUNDRED TWENTY-THREE breakfasts! — were served. This is nearly 50% more than the previous high count of 85.
Guest-chef Silvio Medoro (Silvio's Organic Pizza) is my new hero and inspiration. Clever man that he is, his special was a delicious pizza rustica that was prepared the night before and reheated. Served with flavorful hoop-house greens doused in a delicate vinaigrette. "Molto Bene!"
See also: