April 11, 2009
FestiFools 2009
FestiFools 2009 is, as the movie moguls say, "in the can." It was totally wicked great — and only slightly moist (which, judging by the giddy expressions I saw up and down Main St., didn't seem to dampen anyone's spirits).
There's so much to show and tell that we'd better cut to the chase. Let's roll the film…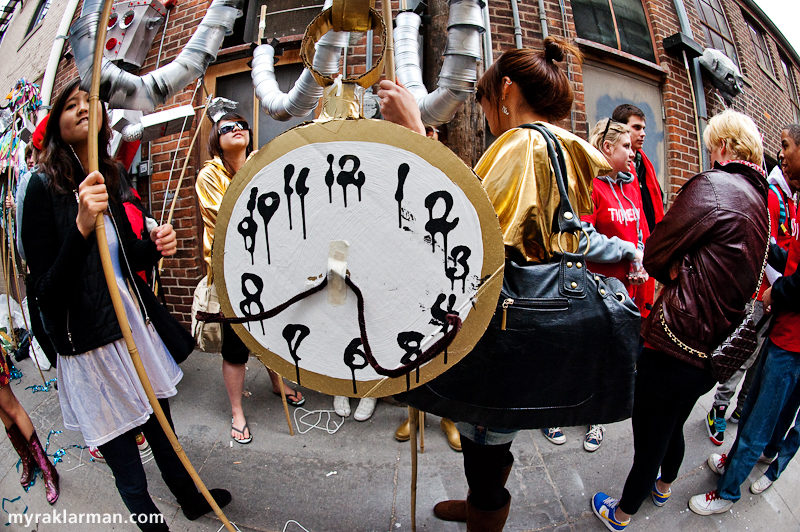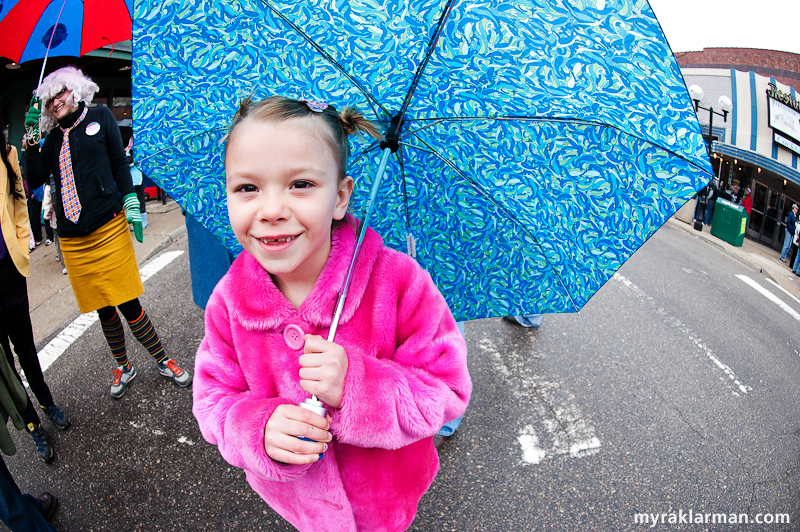 "Holy fishbowl, Batman!"
You may have noticed by now that many of these images have a pronounced convexity to them. Throughout the event, I found myself continually gravitating to my (recently acquired) fisheye lens. I'm drawn to how this lens dramatically enlarges (and somewhat distorts) whatever is immediately in front of it (puppets, people), while capturing so many contextual details in the background and periphery (spectators, buildings, etc.). FestiFools is theatre-in-the-round that perfectly lends itself to this extreme, fun-house–mirror effect.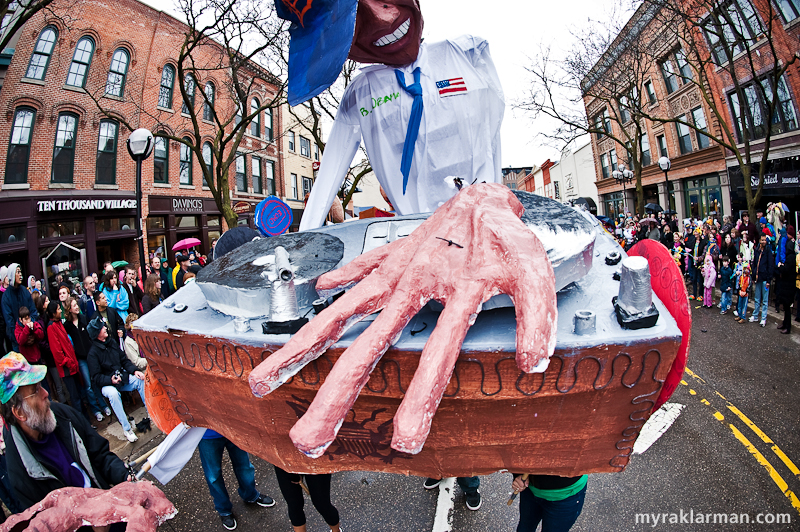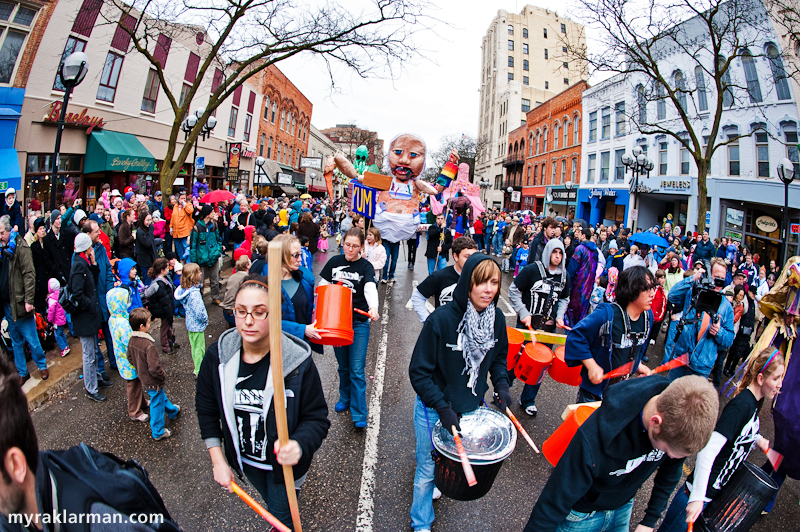 Weather 'tis nobler…
While the rain likely kept some people away, overall the uncertain weather was a huge gift. It rained just enough in the beginning (as if on cue), so we could all demonstrate how hardcore we FestiFools fanatics really are. That so many men, women, and children — even babies! — came out in such inclement weather to join in this Foolishness is massively affirming. And how fortunate that it didn't rain nearly enough to make the festivities unsafe for anyone involved — or even unpleasant (I wouldn't presume to speak for those art students clad only in underwear, but even they seemed to be having fun).
FestiFools has truly been a lucky duck in the meteorology department. In our first three years we haven't had any party-destroying weather. The first year, we beat heavy rains by a matter of minutes. And this year, we narrowly evaded an unseasonable snowstorm. And in the days leading up to FestiFools this year we learned about yet another, perhaps even more formidable, weather threat: wind. On the Thursday before FestiFools, high winds on an otherwise beautiful, sunny day forced Mark Tucker to cancel a scheduled puppetry rehearsal. The students' efforts to move and animate the puppets were rendered utterly futile by the gusting winds.
FestiFools has never had a "rain date" plan, which kind of intensifies the dramatic impact of the event — it's a high-wire act sans net! As exhilarating as this "do or die" attitude is, perhaps it's just too daunting. Throughout the months of hard work leading up to the big day, there is always that lingering, gnawing concern: will the weather cooperate? Max, who'd been volunteering for weeks at the puppet-making studio, burst into tears when I mindlessly mentioned that it might rain on Sunday afternoon. I quickly tried to comfort him (and myself) by explaining that the weatherman was only guessing and didn't really know for sure.
So, in an effort to ease everyone's life-shortening anxieties, there is now talk of possibly instituting a weather contingency plan for FestiFools. Curious to see how this pans out.
"I'd like to thank the academy."
Thanks to everyone who poured so much time, energy, creativity, and enthusiasm into making this thing happen, including (but by no means limited to) the following: Creative Director Mark Tucker, Co-Director Shoshana Hurand, Master Puppet Artists Alex Kahn and Sophia Michahelles, and U-M Art+Design Assistant Professor Nick Tobier.
If you'd like to get involved and become a real, card-carrying Fool, visit the FestiFools website. I hear they let all types join up. They'll even take you!
And just wait'll next year!
See also: