October 09, 2007
Pioneer Theatre Guild: Thoroughly Modern Millie (Publicity Shoot)
Last Thursday I took a "break" from my regularly scheduled programming (shooting high school senior and family portraits) to shoot press photos for the Pioneer Theatre Guild's upcoming production of Thoroughly Modern Millie.
Working with the Guild's multi-talented cast and crew on publicity shots is always a thrill. And for this particular show, so many factors aligned perfectly for an easy, hilarious photo session. The early drafts of costuming and make-up look promising, and I already know from past experience that both will be taken to a whole new level by opening night. Meanwhile, the actors have already begun to inhabit their roles and to master some of the comedic intricacies of their characters. I got a great taste of what's to come.
The Nickels Arcade, with its big-city, architectural feel, provided the perfect Beaux Arts backdrop. History buffs may note that the Arcade was designed and built only a few years before the time period in the musical.
Many thanks to producer Susan Hurwitz for inviting me to work with the Guild, and for making the publicity session a success. Also, thanks to assistant director Porscha Kazmierczak (a Pioneer student) and assistant choreographer Darren Biggart (a University of Michigan Musical Theater student) for their help in staging the shots.
After finding the movie utterly disappointing — don't waste your time! — I'm eagerly awaiting the Pioneer Theatre Guild's rendition. Get more info about the production on the Pioneer Theatre Guild's website.
Tickets
Adults: $12
Students/Seniors/Teachers: $8
Performance Schedule
Saturday, November 3 @ 7:30pm
Sunday, November 4 @ 2pm matinee
Friday, November 9 @ 7:30pm
Saturday, November 10 @ 7:30pm
Sunday, November 11 @ 2pm matinee
All performances will be in Schreiber Auditorium at Ann Arbor's Pioneer High School.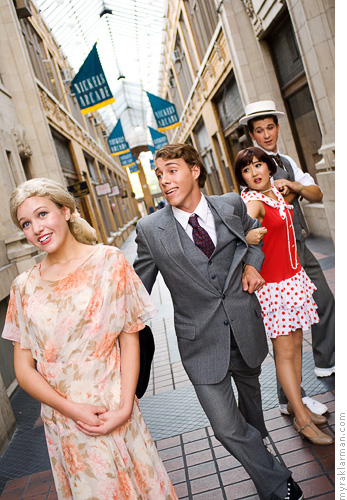 See also: